NANORESTART focused on nanotechnologies and contemporary art.

Why? Contemporary art is a major challenge for conservators since there is a significant lack of established conservation methodologies that can safely tackle the often extremely fast degradation of materials used by contemporary artists.

We can perhaps safely say that many current modern and contemporary works of art will probably not be accessible to visitors/users in a hundred years due to rapid degradation, as they degrade beyond restoration.

Post-1940 artists and early artists (1880s-1940s), used and experimented with materials that are so radically different from the ones used in classic art, that they cannot be preserved using the currently available methodologies.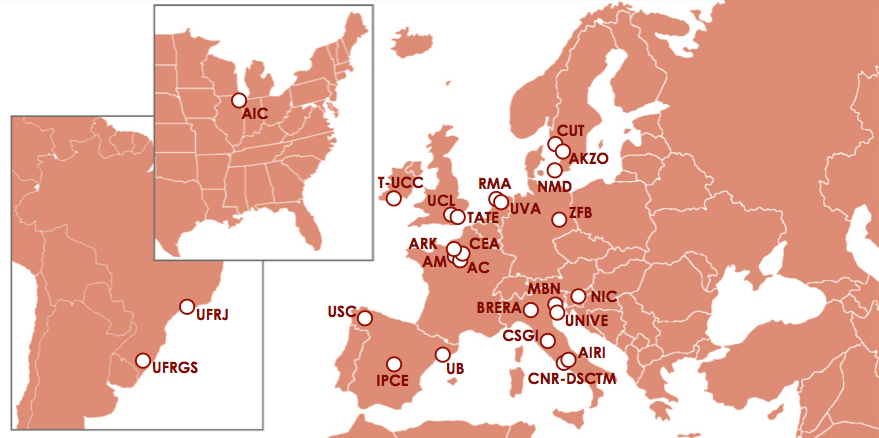 The conservation of this diverse cultural heritage requires advanced solutions at the cutting edge of modern chemistry and material science in an entirely new scientific framework that were developed within NANORESTART project.

The NANORESTART project focused on the synthesis of novel poly-functional nanomaterials and on the development of highly innovative restoration techniques to address the conservation of a wide variety of materials mainly used by modern and contemporary artists.

In NANORESTART, enterprises and academic centers of excellence in the field of synthesis and characterization of nano- and advanced materials joined forces with complementary conservation institutions and freelance restorers. This multidisciplinary approach covered the development of different materials in response to real conservation needs, the testing of such materials, the assessment of their environmental impact, and their industrial scalability.
The concept underpinning the project is that long-term conservation of contemporary cultural heritage can only be based on an in-depth comprehension of the degradation mechanisms that affect art materials, in line with the call topic scope. Our experience shows that the physico-chemical compatibility of restoration materials with the original art materials, is a fundamental requirement to minimize the risks of unpredictable side effects.
NANORESTART objectives can be grouped within four categories that interact synergistically to fulfill the target of long-term preservation of modern and contemporary cultural heritage.

The ground-breaking nature of our research can be more easily outlined by focussing on specific issues. The main conservation challenges that were addressed in the project are:
Conservation challenge 1 - Cleaning of contemporary painted and plastic surfaces (CC1)


Conservation challenge 2 - Stabilization of canvases and painted layers in contemporary art (CC2)


Conservation challenge 3 - Removal of unwanted modern materials (CC3)


Conservation challenge 4 - Enhanced protection of artworks in museums and outdoors (CC4)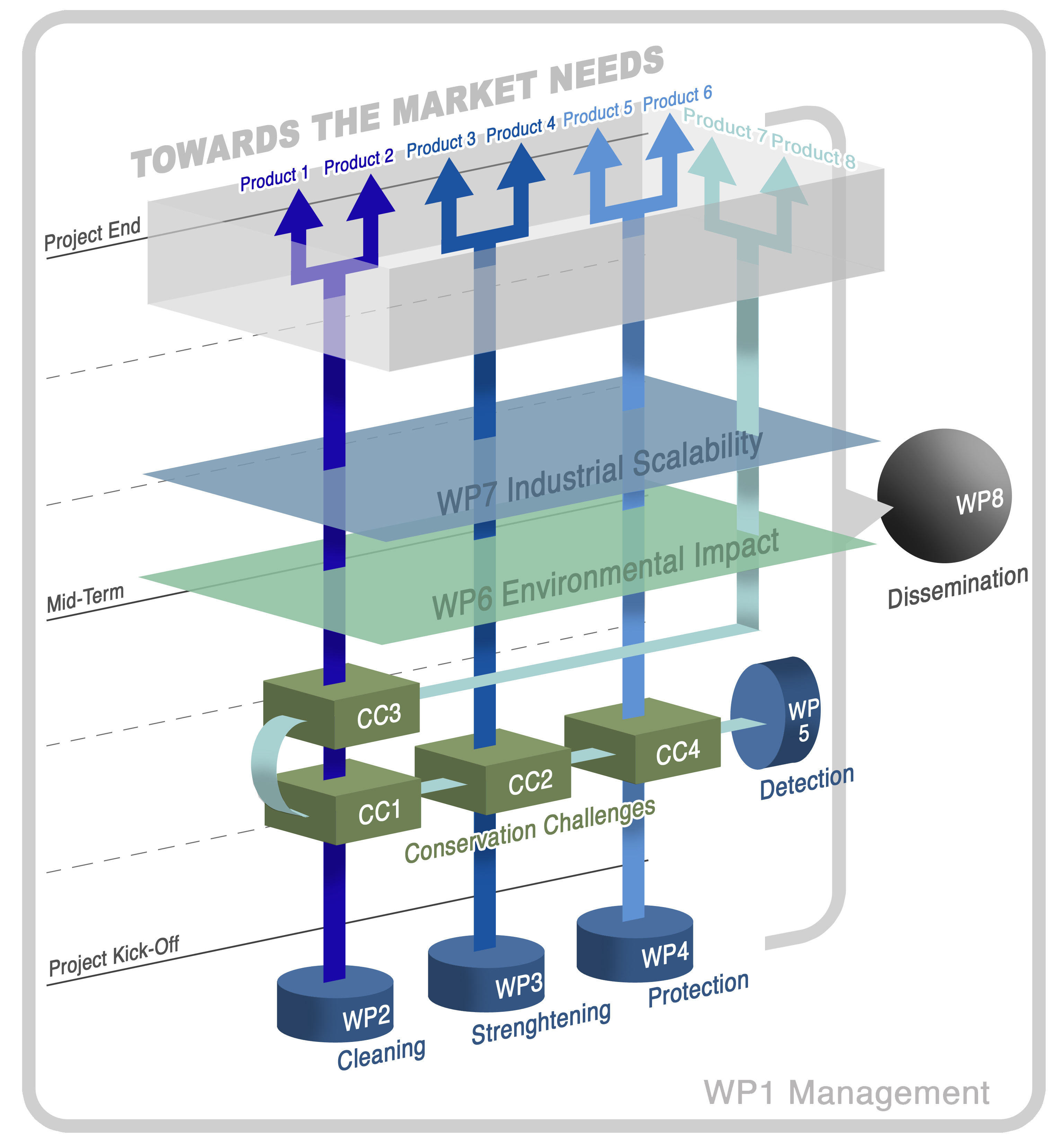 The NANORESTART project was articulated into eight work-packages (WPs) that covered 42 months. A complete description of the work plan can be found here.
Otherwise, you can learn more about each single work-package, using the links below:
Work Package 1 - Management

Work Package 2 - New tools for cleaning

Work Package 3 - Surface strengthening and consolidation

Work Package 4 - Protection of surfaces

Work Package 5 - Nanostructured substrates for highly sensitive detection

Work Package 6 - Environmental impact assessment

Work Package 7 - Industrial scale-up and exploitation of the newly developed technologies

Work Package 8 - Dissemination and knowledge transferring to stakeholders